Hi!
Thanks for developing this software--it gets better day by day.
I just wanted to let you know that for whatever reason, the menu's are giving me weird errors. They vary, I'm including just two of the ones I screen captured.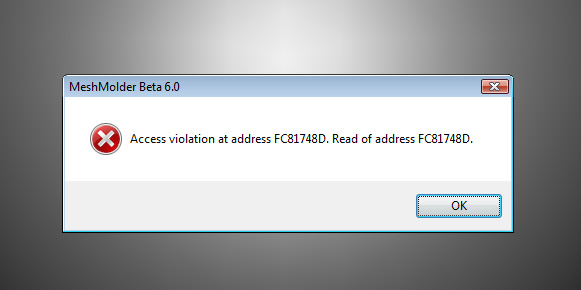 When they happen, I have to click  "OK" a bunch of times until they clear--the box will keep popping up, somtimes showing diferent ones.
This didn't happen w/ beta 6 or any of the others. The software itself runs really well, and I'm using an older PC. Not sure what happened. Also, the error messages themselves say it's beta 6 for some reason.
Any advice would be greatly appreciated; have any other users mentioned this?
Thanks!
Hi RubberDogTurd,

It's the first type demand, no one ever talked about menu errors ... I'll check the changes made from Beta 6.0 to 7.0 to try to fix this bug ... thanks a lot for the feedback
Please inform me your operating system and which computer presented the error (memory and processor)
Admin




Posts

: 142


Join date

: 2015-10-11



I'm sorry for not replying sooner; again it's an older system:
Core2Duo T9300 @ 2.5 GHz
4 GB system RAM
NVidia GeForce 8400M GS discreet graphics card
Windows Vista (don't laugh), 64-bit
Meshmolder itself (and the previous editions) runs great; these menu glitches are the only real problems I've encountered thus far. Aside from the error boxes, sometimes the menu "pull down" lists don't show correctly. They're either offset from where they should be, or they only show a few pixels on the left-hand side, but you can't read the text. I'll post screen shots below when I next try it out--I have to go.
Thanks for the help!
I send for your email a new version with bug fixed.(Windows Vista)
Admin




Posts

: 142


Join date

: 2015-10-11



Thanks! It's working perfectly now!
---
Permissions in this forum:
You
cannot
reply to topics in this forum